Holiday Fundraiser Idea

Ready To Use Fundraiser Packet With Templates
The Foundation has kick started a Holiday Fundraiser where proceeds are earmarked for approved purposes and for use by the enrolled Studio raising the funds.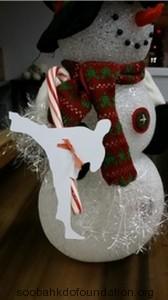 Certainly, you can come up with your own fundraising ideas as well, but we are providing a ready-to-use template and calling this the "Candy Cane Action Figure" craft ornament sale.
The holiday season is upon us and what better way to raise funds for a worthy cause than to have your tots / kids sell a Soo Bahk Do® action figure cutout attached to a candy cane that can be hung!
The figures can be decorated by youngsters and then offered for sale. Who can resist the cuteness of a little girl/boy raising funds for a good cause!
Proceeds can be earmarked for your Studio Account for tuition assistance or other Foundation approved charitable causes that help promote Soo Bahk Do®
Please refer to the fundraiser packet with letter and figure templates you can use for your students to cutout.
The only thing you need to get started is to enroll and then get some candy canes from your favorite store.
Thank you!
Frank Tsai
Chairman